KSA, July 06, 2021: adidas is proud to support Saudi football talents as they embark on their football journey this summer. Athletes Salman Al-Faraj, Khaled Al-Ghannam, Saud Abdulhamid, Mohammed Al Rubaie and Mukhtar Ali will be representing The Kingdom on the global playing field this summer.
This monumental moment for the young talents falls directly in line with adidas' recently introduced evolution of its long-standing brand attitude Impossible Is Nothing. In an effort to support regional and local sports communities through sport, adidas believes in rebellious optimism, rooted in the belief in the power of sports to change lives.

Here's a look at the 5 Saudi adidas athletes representing the national team: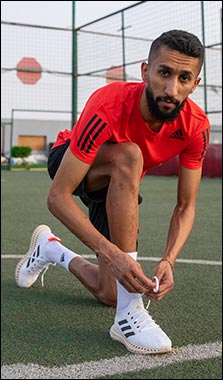 Salman Al Faraj:
Salman Al-Faraj is captain of the KSA national team, and recently joined the growing adidas family. Commenting on his recent signing with adidas, "I am thrilled to be part of the adidas family. adidas' brand attitude "Impossible Is Nothing" is a message that really resonates with me. Seeing possibilities with optimism is key to achieving our purpose of changing lives through the power of sport." Al-Faraj added: "It's a dream of mine to represent my country and I am very excited to see what this squad of young and talented athletes will bring. We have a good balance of experience within the team to draw upon and I am looking forward to seeing this group of athletes achieve the impossible this summer.'

Khaled Al Ghannam:
The 20-year old Saudi Arabian rising star and adidas athlete stated: "It's an indescribable feeling to be called up to represent your home nation. I want to inspire others to achieve their impossible; to inspire them to see the possibilities in their own lives and their country." From humble beginnings to representing his country, Khaled is a role model aiming to inspire young Saudi nationals.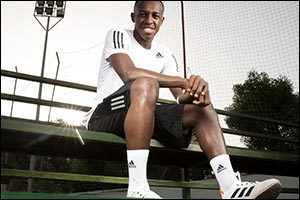 Saud Abdulhamid
The young Saudi talent's passion for football started at a very young age. "My love for football started when I was in school, with my parents and uncle as my main source of motivation and encouragement. To be called up to represent the national team is a huge honor for me. We are all mentally and physically prepared to achieve the impossible."

Mohammed Al Rubaie
The 23- year old goalkeeper and adidas athlete stated "It has always been a dream of mine to take the big stage and represent your home country. The power of what we can achieve together as a team is limitless, and that is truly what we believe in."

Mukhtar Ali
Growing up in London, and being part of the Chelsea youth side which recorded back to back triumphs in the FA Youth Cup in 2015 and 2016, the 23-year old Saudi youngster joined Chelsea F.C. U-11 in 2008, and spent 9 years at the club. Commenting on his achievement, Mukhtar said: "It's a feeling of immense pride and excitement. Playing for your country at the highest level is something any player dreams of. We have a talented squad of players and great coaching staff. It'll be an amazing experience for us all and we can't wait to show what we can do and make our country proud."

Meanwhile, as the athletes continue to return to competition, adidas is celebrating sport this summer with its biggest multi-sport assortment of performance footwear to date. With the celebration of all sports, all teams, and all athletes at its core, the collection mirrors the renewed significance of sports as athletes are united once again.

The launch is accompanied by "Seeing Possibilities": a series of interview films, honoring the diversity in sport and aiming to inspire others to see the possibilities that comes with inclusivity within it.
| | |
| --- | --- |
| | Previous Story : Golf Saudi Ambassador Camilla Lennarth Gives A Special Clini... |
| | |
| --- | --- |
| Next Story : Racing for a Sustainable Future at the Puebla E-Prix | |